Food Pantry Sundays
On the first Sunday of the month, you are invited to bring a non-perishable food item to offer to our Tuesday Morning Food Pantry. A basket by the door of the church awaits your offering, and during worship the children help us pray over the food that is given. Most helpful for those struggling with hunger is some sort of protein, like peanut butter or canned tuna or beans.
Cents-ability Sundays
On the last Sunday of each month, we receive our Cents-ability Offering on Make a Change Sunday.  This money supports our Free Food Program on Tuesday mornings, making a change in the lives of those who are hungry, as well as other hunger programs in Northern California. You are invited to contribute a few cents, perhaps even 25 cents, into a container in your home at every meal. Then bring your offering to worship the last Sunday of the month, where our children, who are learning about sharing and giving, help receive your contribution.  At the back of the sanctuary Cents-Ability cans are available for you to take one home for your kitchen table. Small acts of faithfulness add up, and the coins make a joyful noise to the Lord
Food Pantry (updated July 2020)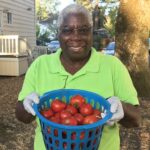 In 2013 we started our Windsor Presbyterian Food Pantry after seeing the need in our community to provide free quality food to anyone who is hungry. We are open Tuesday mornings from 8:30am until 10am, holidays included, providing food that has been donated by the Redwood Empire Food Bank, Oliver's Market, Raley's Windsor, Farm to Pantry (gleaners) and non-perishable food drives organized by Windsor Rotary and our  congregation.
We serve as many as 75 households each week.
To prepare for our Tuesday morning food distribution, our volunteers "shop" during the week at Redwood Empire Food Bank  for veggies, eggs, protein, bread, and canned or booked goods. Some of these goods are free and some are purchased. We're grateful for the generosity of the Presbytery of the Redwoods' Hunger Task Group and others including the Town of Windsor that support our program with grants and donations.
On Mondays, additional volunteers pack and prep food for distribution the next day, while others pick up or receive additional donated food that'll be shared on Tuesday.
Tuesday mornings our volunteers visit Oliver's & Raley's Markets in Windsor at 7:30am to pick up donated food. Other volunteers set up the food distribution with tables, waiting areas and pathways designed in a manner that allows for social distancing between participants.  Anyone who wants food (there are no residency or age requirements) simply signs-in upon arrival and receives food.
Any food remaining after 10am is taken to other free food distribution sites, including the senior mobile home park in Windsor, the Healdsburg Food Pantry or the Redwood Gospel Mission.
We appreciate contributions of non-perishable food anytime, perishable food with pre-arrangement, paper towels, empty 12- or 6- egg cartons or monetary donations to help offset expenses. There is a marked container on the front porch of the church where you can leave your non-monetary donated items.
Volunteers are welcome to help on Mondays or Tuesdays or on related days of the week, there are plenty of opportunities!  Please reach out in advance so that we can discuss training, timing and find your most appropriate volunteer assignment. Contact the church office for more information.