Peanut Butter Sundays
On the first Sunday of the month, you are invited to bring a non-perishable food item to offer to our Tuesday Morning Food Pantry. A basket by the door of the church awaits your offering, and during worship the children help us pray over the food that is given. Most helpful for those struggling with hunger is some sort of protein, like peanut butter or canned tuna or beans.
Cents-ability Sundays
On the last Sunday of each month, we receive our Cents-ability Offering on Make a Change Sunday.  This money supports our Free Food Program on Tuesday mornings, making a change in the lives of those who are hungry, as well as other hunger programs in Northern California. You are invited to contribute a few cents, perhaps even 25 cents, into a container in your home at every meal. Then bring your offering to worship the last Sunday of the month, where our children, who are learning about sharing and giving, help receive your contribution.  At the back of the sanctuary Cents-Ability cans are available for you to take one home for your kitchen table. Small acts of faithfulness add up, and the coins make a joyful noise to the Lord
Food Pantry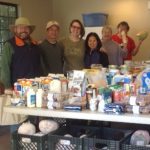 In 2013 we started our Windsor Presbyterian Food Pantry after seeing the need in our community to provide good quality food at no cost to anyone who is hungry. We are open Tuesday mornings from 9am until 10am, holidays included, providing  food that has been donated by the Redwood Empire Food Bank, Oliver's Market,  and donations from our congregation.  We serve approximately 30 households each week in just that one hour of time.
To prepare for our Tuesday morning food distribution,  on Monday morning food is brought to the church by volunteers who drive to Redwood Empire Food Bank to select veggies, eggs, protein, bread, and canned or booked goods. Some of these goods are free and some are purchased by the church through our Cents-Ability Offering.  A generous grant from the Presbytery of the Redwoods' Hunger Task Group also supports the program. An additional 4-6  volunteers arrive at the church Monday mid-morning to sort, store and refrigerate or freeze the food for the next morning's clients.
On Tuesday mornings, another set of volunteers go to Oliver's Market in WIndsor at 7:30am to pick up the bulk of the food we distribute. Other volunteers arrive before 8:30am to display the food and arrange the groceries. Anyone who wants the food (there are no requirements to be met to receive food) simply signs in at the door and receives a number, waits for their number to be called and then, using an approved bag of uniform size, chooses the foods that best suit their needs. Once everyone who has signed up that morning has had a chance to "shop," then everyone is invited back in to take anything that is left over so nothing goes to waste.
If there is any food left after 10am, it is taken to various locations for free distribution including the senior mobile home park in Windsor, the Healdsburg Food Pantry or the Redwood Gospel Mission.
We always appreciate donations of non-perishable food anytime, perishable food with pre-arrangement, paper towels, empty 12- or 6- egg cartons or money to help offset expenses. There is a large basket at the back of the sanctuary in which you can place your donated items.
Volunteers are always welcome for Monday or Tuesday mornings. We appreciate you notifying us when you can work so that our schedule is accurate. Contact either Elder Chris Ruppe or Elder Joyce Sartori, or  the church office.
Nutritional Cooking Class
Tuesday mornings the Promotore de Salud (Health Promoter) from St. Joseph Health offers nutritional cooking classes "Your Heart, Your Life" from 9:30-11:30am. These classes are seven weeks long and begin with classroom instruction about nutrition and heart disease and then move into the church kitchen for hands-on learning where participants make and share a meal together. Classes are taught in Spanish, and are funded by a medical ministry grant from the Synod of the Pacific.