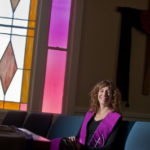 Dear Windsor Presbyterian Church,
 
It is with a mixture of hope and sadness that I announce my departure as your pastor.
 
God is always up to something, and in this case, God has called my husband Jeff to a job in Spokane, Washington.  We are excited about this professional opportunity for Jeff, and look forward to living closer to family.  And yet, the roots we have in Sonoma County, especially with this congregation, are deep. We will miss you, and are so grateful that you have served as a loving church for the four of us.
 
It has been a privilege and a blessing to serve as your pastor these past eleven years. I love how we have sought God together and how we have been willing to play and pray together. You have been formative in my own spiritual growth; thank you for allowing me to be a part of yours.
 
My final Sunday with you will be May 7.  Until then, we will take the time to give God thanks for our ministry together.  I suspect the next few months will contain laughter, tears, and more for us.  I am grateful to God for the ability to weep and proclaim joy with you.
 
The Redwoods Presbytery's Committee on Ministry (COM) will work with the Session and with the congregation to discern transition plans over the next months. The church is in good hands.  God's hands are always full of blessing and promise.
 
God bless you,
The Rev. Amy Seymour Haney
HAPPY TRAILS FAREWELL PARTY FOR PASTOR AMY!
Sunday, April 30, 4pm to 7pm Windsor Presbyterian Church Pot luck dinner – please bring something to share
Join us for a time to celebrate, remember and thank Pastor Amy for her leadership and friendship over the years! We will have time for everyone who is inspired to share some brief memories or best wishes during the evening