Come Explore the Windsor Luminary Labyrinth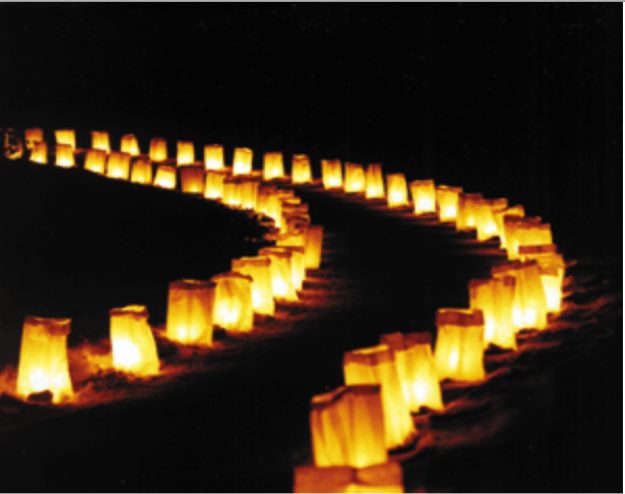 Thursday, December 3
5:00pm – 7:00pm
Windsor Presbyterian Church
Parking Lot
251 Windsor River Rd,
Windsor CA
Begin your Advent Journey… Release, Receive, and Return

What Is A Prayer Labyrinth?
A labyrinth is a path which leads to the center of an intricate design and back out again. Unlike a maze, a labyrinth's route has only a single path.

A prayer labyrinth is used to facilitate prayer, meditation, spiritual transformation, and/or global unity. Labyrinths have been used by a wide variety of cultures for at least 3,500 years.

A labyrinth can symbolize many things such as the hard and winding road to God or a mystical ascension to salvation and enlightenment. Some view it as a "sacred path" or a "sacred gateway."

Walking a prayer labyrinth involves 3 stages:
Release – As you walk toward the center of the labyrinth you are invited to shed the cares and distractions of life and open your heart and mind.
Receive – At the center of the labyrinth; this is the time to receive what is there for you through prayer and meditation.
Return – This is a stage of illumination as you exit the labyrinth and involves joining God, your Higher Power, or the healing forces at work in the world.
* veriditas.org

Request Your Own Personalized Luminary
Carry a custom luminary as you make your labyrinth journey with a photo of a loved one, present or past, a message that is important to your advent journey, or an image close to your heart. Custom luminaries will be created for you on request by Lorraine Chandler. Submit your request, including words and/or photo by Monday, November 30 to mebeene70@gmail.com and pick up your custom luminary the evening of Dec. 3 at Windsor Presbyterian Church.
Suggested WPC donation of $10.