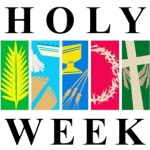 EVERYONE Is Invited to Holy Week Services
Palm Sunday Service, April 5, 9:30 am
Palm Sunday begins Holy Week celebrating the triumphal entry of Jesus into Jerusalem. Service begins at 9:30 am in the main sanctuary with the waving of Palm branches as the Choir leads us into worship. Join us after service for a time of fellowship & refreshments.
Maundy Thursday Service, April 9, 5:30 pm
Maundy Thursday Service begins at 5:30 pm and will be held in the main sanctuary. The service marks the Last Supper with Jesus Christ and his apostles and will consist of a simple meal, the reading of scripture, a time of reflection concluding with Communion.
Good Friday Service, April 10, 6:00 pm
Good Friday Service will begin with the reading of scriptures coinciding with a visual presentation commemorating the betrayal, trial, and  crucifixion of Jesus Christ with his death at Calvary. Our Choir will sing and candles will be extinguished as the service progresses.
Easter Sunday Service, April 12, 9:30 am
Easter Sunday we will celebrate the Resurrection of Jesus Christ with music, inspiring message & special music from our Choir. Following service all the children are invited to join in an Easter Egg Hunt as everyone enjoys a time of fellowship & refreshments.